COMMUNITY LEADERS NIGHT
The night of the 8th of October 2020, Africause hold a successful free online forum gathering 4 of the most important African-Australian leaders in Victoria to discuss COVID-19 effects and impacts for the communities.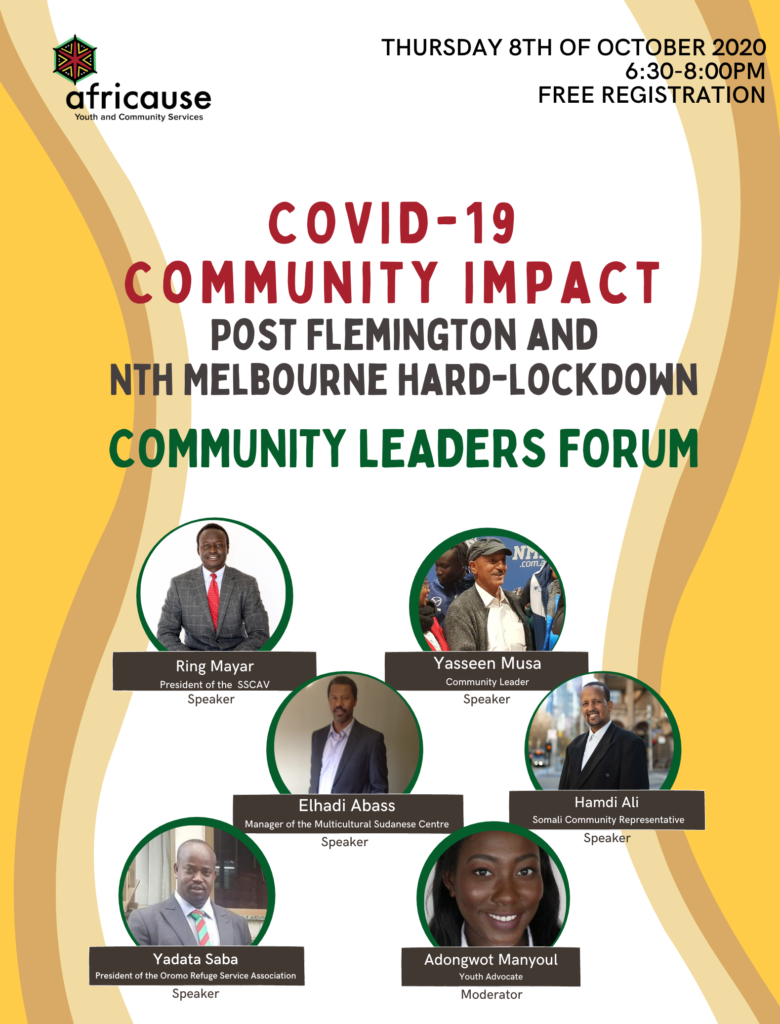 Topics such as Community Engagement, Challenges, Employment and Education where some of the main discussions developed by the community leaders Ring Mayar, Yasseen Musa, Yadata Saba and Hamdi Ali. The leaders have also spoken about the ways in which the community has been able to come together to support each other, and ways in which Victorian African Australian's can thrive and adapt after the COVID-19 pandemic.
DIGITAL RESOURCES
Video Recording of the forum 08/10/2020:
The online forum organised by Africause Inc. as part of the discussions COVID 19 Impacts on the African-Australian Communities as a result of lockdowns and hard lockdowns in the North Melbourne and Flemington Areas.
Attendance recorded: 52 participants.
Date: 8th of October 2020
Location: Melbourne VIC, Australia
Due to the privacy issues, we are protecting participants from showing their face on the video. The rights to the video are held by Africause Inc
Community COVID-19 Impact Survey Results: