Mrs. Jula McAllister
Accountant — Payroll Officer (Volunteer)
Julia is a bookkeeping support worker at Africause.
Julia is a bookkeeping support worker at Africause. Her passion is helping small organizations and businesses develop and maintain their accounting system. Julia has a Bachelor of Commerce degree from Deakin University and has three years of experience with bookkeeping and payroll work. She has five years of experience as an administration assistant in the public accounting and taxation industry.
Mrs. Nevien Saad
Admin Support (Volunteer)
Mrs. Nevien Saad is an Egyptian-Australian arrived in Australia 31 years ago
Mrs. Nevien Saad is an Egyptian-Australian arrived in Australia 31 years ago. She is a mother of 3 beautiful sons and lovely husband. Nevien Works with us as admin support. Mrs. Nevien has friendly personality with big smile in her face welcoming visitors to our office. She is also qualified case manager in community services and Arabic/English interpreter.
Mrs. Susan Agoer
Social Worker (Volunteer)
Ms. Susan Agoer is originally from South Sudan, She is a single mother of 3 children under 16 years of age.
Ms. Susan Agoer (Sth Sudan), a single mother of 3 children under 16 years of age. She is Khartoum university graduate with vast experience in working in the health and community sector in Australia. Susan arrived in 2006 and she has been a housewife for few year. Ms. Susan work with South Sudanese families and children. She supported families and children with schooling and family crises. She is well respected in the community and has so much potential as a young woman leader.
Mrs. Hanan Suleiman
Youth and Family Worker (Volunteer)
Mrs. Hanan Suleiman is from originally from Eritrea, She arrived in Australia in  2012.
Mrs. Hanan Suleiman is from Eritrea, arrived in 2012. She completed year 11 in Eritrea, and did certificate III in childcare in Melbourne, Australia. Currently working part-time with save the Children in Collingwood organising homework support for local mothers and children. She is part-time staff member with Africause coordinating families and young mothers in Housing Commission flats in inner Melbourne (namely Collingwood, Fitzroy, Richmond, and Carlton) and surrounding suburbs. Mrs. Hanan is gifted with social skills and potential leader among young women of her age. She has been in Melbourne for 10 years but her connections land network looks vast (as a house wife and mother). She managed to organise and mobilise women and families from the different African background, other ethnic group communicating with her language's skills and ability reaching out to all and more importantly with her infectious smile.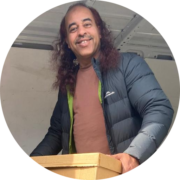 Abaas Abukar
Africause Cultural Worker (Volunteer)
Mr. Abaas Abukar is Africause cultural worker of Somali background.
Abaas arrived in Australia in 2003 with his family. He is a father of 11 children and 8 grandchildren. Abaas is a very friendly man with great potential leadership in multicultural communities. During Lockdown Abaas with his smile and friendship skills helped many mothers and children with Africause food package delivery supported by Victorian government and our partners Igniting change and showing solidarity to our Africause community during lockdown. His smiling face has brought happiness to many stressed families in housing commission flats and other families in western suburbs who have been isolated with their children. Abaas was one of Africause's social workers who helped those families with food, toys, games and furniture.
Miss Lauretta Dixon
Administration Assistant (Volunteer)
Miss. Lauretta Dixon –  started working with Africause in August  2021 during the lockdown as volunteer to manage Fines Victoria WDP.
Miss. Lauretta Dixon –  started working with Africause in August  2021 during the lockdown as volunteer to manage Fines Victoria WDP. She was welcomed by Africause team to share information and experiences in the WDP. Ms. Lauretta learned the WDP process and worked with clients who have hardship and challenges due to COVID pandemic and other social ills. She managed the program very well and many clients were relieved from the burden and are successfully pursuing their job search and life.
Ms Lorelle Said
Employment Program Advisor (Volunteer)
Lorelle Said brings 25 years' experience as Human Resources (HR) Generalist with a track record of partnering C Suite over the last 12 years.  As a trusted business partner and thought leader, Lorelle enables measurable return on HR investment across blue-chip corporates including Qantas, NAB, Telstra and the Community Sector including Africause, Youth Activating Youth and Spectrum
Lorelle is motivated by building capability and mutual learning networks across disadvantaged, culturally and linguistically diverse (CALD) communities, industry and government.  Recent, personal highlights include, enabling full employment for 1:3 CALD community members at Transdev in partnership with African-Australian community organisations, over a 12 month period, amid COVID 19.
Lorelle incorporates a working knowledge of employment legislation, mainstream HR workplace practices and an authentic relationship approach, bridging all sectors to enable sustainable employment outcomes.  Resulting learning networks between core services, community, government and industry facilitate the team's ability to deliver tailored, co-designed and co-delivered community and industry employability, recruitment retention, and cultural intelligence training.
Underpinning Lorelle's track record is a Masters in Business Administration, Masters in Services Marketing, Post Graduate Diploma in HR and Industrial Relations, Bachelor Arts (Honours), Myers Briggs® Step I™ and Step II™ Certified II, Community Engagement Essentials Cert I and currently completing a Cert IV in Community Services
Daniela Lopez
Social Media Manager(Volunteer)
Daniela is a University graduate with a Bachelor's degree in International Relations from her home country Mexico.
Daniela brings vast experience by working for many international companies in her home country of Mexico. She came to Australia to expand her knowledge throughout different courses in Business, Project Management and Digital Marketing.
At home she was taught that helping others was the key to find inner happiness and that is why she has always had a passion for the well-being. Daniela believes in people and that when working together we can create the greatest of things for the betterment of the society.
Natasha De Almeida
Secretary and admin (Part time and volunteer)
Natasha is the face of the organisation, welcoming visitors, clients and partners every day with a smile – she is Africause's office secretary and administrator. She ensures all our clients, particularly those with refugee experiences are provided high-quality assistance and care. Natasha makes their journey at Africause pleasant and inclusive. She has over 30 years of experience in administration, customer service and building community trust and relationships. Without Natasha (and other office staff) Africause could not survive and thrive.
Natasha coordinates and organises our adult volunteer English classes and tutors clients with homework and other activities. She also provides administrative support for Africause's Board and helps organise and coordinate our external events and annual Iftar dinner with 70+ guests.
Natasha has spent her career in customer and client service, beginning in the private sector (Telstra), moving to government (Metlink) and now the not for profit sector. She holds a Certificate IV in Business Administration, qualifications in Teaching English as a Second Language (TESL) and Teaching Adult Migrants English Program (AMEP). She has volunteered in Columbia teaching English and also volunteers regularly with her local Rotary Club.
Khaled Messoudi
Youth Employment facilitator (Part time and volunteer)
Khaled is currently the leading the JVEN project, which is the division of Africause (AAMEYS) responsible providing employment support services, especially helping people with pathways to a desired career.
Khaled graduated from RMIT with honours in International Business. Notably, Khaled worked for Vodafone as a managing Director for four years and in 2015, founded the Ascent Football Academy, providing pathways for young and emerging Soccer talent, to play in the Hyundai A-League and Asia League.
Khaled's social skills, friendly approach and network makes the disengaged young people, particularly "youth from juvenile justice and adult offenders coming from prison" to connect with their communities and commence their new journey with confidence. Last year Khaled achieved a record employment (178 young people) support for members of the local communities with the JVEN project. Africause become the go to for members of the local communities for employment and other justice related support in the Western suburb, because of Khaled.
Mr. Jemal Ahmed Hagos
Administration and Supporting New Refugee Arrival
(Part time and volunteer)
Mr. Jemal has Bachelor of Arts in Political Science and International Relations, Addis Ababa University, Ethiopia. He is a refugee from Eritrea and he was made refugee at his early age.
He fled to Ethiopia and he created self-support business in the Refugee camp in Ethiopia and funded himself to move to Addis Abeba. He joined the university and again, funded himself to complete his bachelor degree. He moved to Egypt and worked as translator and Eritrean refugee case writer and also worked as money remittance business owner to provide refugee access to their relatives to receive financial support from around the world in Egypt. Mr. Jemal and his wife self-funded for the Australian Humanitarian Community Pilot project cases. He is creative and innovative to survive in odd situations. He prepares drafts refugee cases for migration agents and supported women and children with language barrier in refugee camps. Jemal is a survivor and self-made young man with great potential. Currently, Jemal is studying migration law at Victoria University.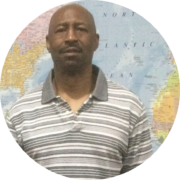 Mr. Byron Price
Youth Engagement Worker (Volunteer)
Byron has over 30 years of experience in the Correctional sector in the United States, starting with Residential Housing Assistance, Pre-trial Release, Juvenile Detention and Adult Parole.
He has worked as a Behavioural Specialist within schools. Since coming to Australia, Byron has been involved with offenders on probation, consulted with various Aboriginal sectors, interacted with the African-Australian community. He has been able to observe the disadvantages which lie within the African-Australian youth community and has a strong desire to assist in providing them with an opportunity for a better future. The time spent in this field has allowed Byron to gain relevant qualifications integral to furthering his dedication and support to the community. He is also very aware of the positive impact of engaging youth in physical activity and coaches African-Australian basketball teams.