Dr. Berhan Ahmed
CEO and Board member
Dr. Berhan Ahmed, is the CEO of Africause (previously known as African Australian Multicultural Employment and Youth Services, adjunct Professor at the University of Melbourne, Victorian Australian of the year 2009 and ex-Australian Institute of Company directors member, ex-Victoria Police Human Right committee members and founder and ex-chairperson of the African Think Tank (ATT) in Australia, ex-chief editor of the ATT focus E-magazine and current editor of Fresh Voice News Bulletin; ex-Board member of Flemington and Kensington Community Legal Centre; and well-known to many Africans residing in Australia, through his commitment to numerous community issues via main stream media and community media and community activities. First African Australian Senate Candidate for federal election 2004 for Victoria. Elected as chairperson on 19 March 2006 for the African Think Tank as a pick African organisation and served as the advocate of human rights and refugee settlement in Australia for African refugees, Refugees committee (1997 – 2005), and being board member of the Australian Multicultural Education Services (AMES) 2007 – 2016.
Dr Ahmed is motivated by five core principles – social justice, sustainability development, Aboriginal reconciliation, building stronger and dynamic communities and applying democracy in action. His current leadership role will explore new ways of engaging disadvantaged youth and their families participation, decision and eliminate the culture of cover up and continued hostility and lack of co-operation among community members. The African communities will also engage with other communities to create harmony and good image of our continent in Australia.
Dr Ahmed first priority is to make Victorian diverse multicultural society a strong, dynamic and a show case "yard stake" society in Australia and around the world. A community that values its heritage while embracing multiculturalism, tolerance, respects and cares for each other. The challenges are enormous and will be faced with happiness, community member's consultation, talents and team work of the leadership.  This stems from his own life experience; memories of being a refugee as a teen age (1978), discriminated, entrenched in poverty and treated as enemy before he knew what an enemy mean; this stand in sharp contrast to the dignity and love that he received from his family and from his adopted country Australia.
Dr Ahmed, said "My job as a leader is to help others achieve their full potential, and also want to see community members engaged actively in shaping their own futures with a confidence that comes from a sense of pride of their identity and respect and trust of each other. I hope in doing so, community members to place emphasis on local and national issues and provide moral and financial support to all youth in Juvenile justice, the homeless, and refugees regardless of their religion, tribe, race, skin color, political membership, gender, age, income, education level etc. I will not be a mouthpiece of either the government or the opposition, but I will support any youth to participate and practice his/her democratic rights within any political, social, economic, cultural and sport activities.

Mrs. Julia McAllister
Accountant — Payroll Officer (Part Time)
Julia is a bookkeeping support worker at Africause.
Julia is a bookkeeping support worker at Africause. Her passion is helping small organizations and businesses develop and maintain their accounting system. Julia has a Bachelor of Commerce degree from Deakin University and has three years of experience with bookkeeping and payroll work. She has five years of experience as an administration assistant in the public accounting and taxation industry.

SARAH DE CAEN

Education Coordinator (Part Time)
Sarah de Caen has accumulated an impressive over 10 years of experience in the education sector, with an extensive background as a VET Trainer, Assessor, and validator.  Throughout her career she has taken on roles as a Business & VET Consultant, Educational Program Director, Student Placement Coordinator, Community Services Professional, Early Childhood Educator, Risk Analyst, Occupational Health & Safety Auditor, Strategic Manager, Innovative Business Leader, and Pastoral Care Specialist, among others. This broad spectrum of roles showcases Sarah's versatility and adaptability in the ever-evolving field of education.
Throughout their career, she has consistently displayed a deep commitment to the enrichment of the learning journey for all students, educators and community. Their expertise extends beyond merely developing and delivering education programs; Sarah excels in assessing and evaluating these programs to ensure they align with current educational frameworks and regulations. Their dedication to compliance and quality has been instrumental in ensuring that the institutions they have worked for remain at the forefront of delivering high-quality educational outcomes.
Currently serving as the Education Coordinator of Africause Organization, Sarah is designing and developing innovative educational training programs, including the "Everyone Matters" program, which focuses on inclusion and diversity in education.
Sarah operates her own education company 'Renewal Success", in which she offers her services: –
–             Business Consultation
–              Business Management training for small businesses
–              Education advisory
–              Develop new curricula for schools and training organisations.
–              Facilitate training for educators
In conclusion, she possesses an impressive skill set and a wealth of experience that makes them an invaluable asset to the education sector. Their dedication to promoting inclusion and diversity in education is commendable, and I have no doubt that their contributions will continue to shape and enhance the field of education.
Keletso Niebling (MEDL)
Youth Programs Manager (Volunteer)
Keletso has a wealth of knowledge and experience in Early Childhood Education Leadership. She has worked from various early childhood education services for the past twenty years.
Currently Kel is the founder of MAGANO. The Label clothing. A clothing label that was birthed with womanhood in mind. She created this label for the woman who has difficulty finding a dress which fits them well. It is designed for the woman with a unique body shape, and lovingly made with the celebration of diversity in mind. She can be contacted on
Yassin Musa
Community

 Partnership and Homework Support (Volunteer)
Sport portfolio. Community representative; Driving Instructor​
Yasseen arrived Australia 30 years ago and since that time he worked hard to lobby the Australian government to get African refugees to Australia under humanitarian program.
He has been volunteering for community in multifaceted areas since then. Some of Yasseen recent significant work includes:
Yasseen is the current Multicultural Community Ambassador for AFL. He was recognised by AFL as Multicultural Community Ambassador of the Year 2013 for his support to AFL and African Community.
Yasseen currently leads the community safety group to evening & night foot patrolling/walk with Victoria Police & African community members in the Flemington, Kensington, North Melbourne Housing Estates, Stations, flats, main roads in the local area. This has made the local area safe and trust on police has increased from the community.
In year 2012 Yaseen established Team Africa footy team and they played at harmony cup which is a footy tournament played between 12 different ethnic backgrounds and also played at unity cup.
Yasseen has played the key role to link the African community members and Victoria Police and help maintain excellent relationship between police and African communities across Melbourne.
Yasseen has assisted as the first community group to organise the Cultural Food Project with Victoria Police and African community where cultural food is shared between police and African community members at Flemington police station.
For his behind the scene volunteer work Yasseen has been honoured with prestigious John H. Kerr (Silent Achievers) community service award from Rotary Club of Footscray
Yasseen performed as one of the actors (father) in the movie, "Falling for Saharah". This movie has rated top 10 in Melbourne Film festival 2012, (please see the You Tube below).
Mukarram Mohammed
Support worker (Staff)
Mukarram holds a Master of Information and Technology degree in Computer Networking from the University of Ballarat and a Bachelor of Technology degree in Electronics and Communication from Jawaharlal Nehru University. His educational background, coupled with his extensive professional experiences, equips him with a well-rounded skill set to contribute effectively to the Africause community.
In terms of personal attributes, Mukarram demonstrates strong people management and leadership skills, as well as excellent interpersonal skills. He has proven his ability to follow instructions efficiently while also being self-directed. His exceptional time management and multitasking abilities, developed through his parallel management of work and academics, make him an organized and flexible team member. Moreover, Mukarram's fluency in English, Urdu, and basic Arabic allows him to effectively communicate with a diverse range of individuals within the community.
Mukarram's passion for contributing to the growth and sustainability objectives of Africause aligns well with the organization's mission to support African-Australian young people and their families. His skills and experience make him an invaluable community helper, dedicated to making a positive impact on the lives of others.
Guy Robinson
Technical Manager (Staff)
Guy has worked in technical roles for almost a decade. He has studied in both IT and AV, and has been working in software development across multiple countries.
He has worked on projects ranging from website design and development, server administration, system design, project management, and support.
The guy has always been inspired to help people from all backgrounds achieve their best, and he enjoys meeting many of the diverse people that come to Africause.
Abdalla Geberabi
Community Support member
Abdalla Geberab is community support worker at Africause.
Abdalla Geberab is a community support worker at Africause. He became engaged in the community service industry while he was a student in his home country, Eritrea. He helped his late father in his public service office.
After completing his academic studies, he joined the education sector as a volunteer, helping students with their homework and assisting teachers. In a financial institute, he worked in the client admin department, gaining extensive experience in serving customers.
When he migrated to Australia, he discovered that serving the community was his passion and could provide significant value to the community. He attended various courses related to the community, acquiring certificates and licenses, and is currently pursuing higher certificates to further develop his skills. Given that Australia is a country with people from different backgrounds, Abdalla expanded his community knowledge to better serve the community.
Joining Africause was a significant step towards strengthening his connection with the community. This role involves working with and listening to the people. He understood the importance of supporting Australians of African backgrounds as a way to contribute to the community. One of the contributions he has made to the community is providing guidance to new arrivals regarding education, employment, and settlement.
Lorelle Said
Employment Program Advisor (Volunteer)
Lorelle Said brings 25 years' experience as Human Resources (HR) Generalist with a track record of partnering C Suite over the last 12 years.  As a trusted business partner and thought leader, Lorelle enables measurable return on HR investment across blue-chip corporates including Qantas, NAB, Telstra and the Community Sector including Africause, Youth Activating Youth and Spectrum
Lorelle is motivated by building capability and mutual learning networks across disadvantaged, culturally and linguistically diverse (CALD) communities, industry and government.  Recent, personal highlights include, enabling full employment for 1:3 CALD community members at Transdev in partnership with African-Australian community organisations, over a 12 month period, amid COVID 19.
Lorelle incorporates a working knowledge of employment legislation, mainstream HR workplace practices and an authentic relationship approach, bridging all sectors to enable sustainable employment outcomes.  Resulting learning networks between core services, community, government and industry facilitate the team's ability to deliver tailored, co-designed and co-delivered community and industry employability, recruitment retention, and cultural intelligence training.
Underpinning Lorelle's track record is a Masters in Business Administration, Masters in Services Marketing, Post Graduate Diploma in HR and Industrial Relations, Bachelor Arts (Honours), Myers Briggs® Step I™ and Step II™ Certified II, Community Engagement Essentials Cert I and currently completing a Cert IV in Community Services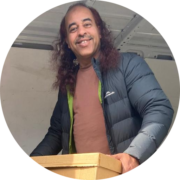 Abaas Abukar
Africause Cultural Worker (Volunteer)
Mr. Abaas Abukar is Africause cultural worker of Somali background.
Abaas arrived in Australia in 2003 with his family. He is a father of 11 children and 8 grandchildren. Abaas is a very friendly man with great potential leadership in multicultural communities. During Lockdown Abaas with his smile and friendship skills helped many mothers and children with Africause food package delivery supported by Victorian government and our partners Igniting change and showing solidarity to our Africause community during lockdown. His smiling face has brought happiness to many stressed families in housing commission flats and other families in western suburbs who have been isolated with their children. Abaas was one of Africause's social workers who helped those families with food, toys, games and furniture.
Claire Connell
Grants Manager (Staff)
As Grants Manager, Claire Connell primarily supports Africause to generate grant revenue. 
Over the past 10+ years, Claire has generated $75M+ in government and philanthropic grant funding for a number of small and medium sized not-for-profits throughout Australia.
Claire brings considerable experience working in grass-roots and management roles across a wide range of sectors including refugee/migrant support services, youth and disability services, justice, community health, employment and training and local government.
Claire is passionate about supporting the growth and sustainability objectives of Africause to support African-Australian young people and their families to settle well in Australia and experience improved life outcomes.
Khaled Messoudi
Youth Employment facilitator (Part time and volunteer)
Khaled is currently the leading the JVEN project, which is the division of Africause (AAMEYS) responsible providing employment support services, especially helping people with pathways to a desired career.
Khaled graduated from RMIT with honours in International Business. Notably, Khaled worked for Vodafone as a managing Director for four years and in 2015, founded the Ascent Football Academy, providing pathways for young and emerging Soccer talent, to play in the Hyundai A-League and Asia League.
Khaled's social skills, friendly approach and network makes the disengaged young people, particularly "youth from juvenile justice and adult offenders coming from prison" to connect with their communities and commence their new journey with confidence. Last year Khaled achieved a record employment (178 young people) support for members of the local communities with the JVEN project. Africause become the go to for members of the local communities for employment and other justice related support in the Western suburb, because of Khaled.
Fathi Hassan staff and volunteer
Immigration registration agent
(MARN 1909782) (Part time and volunteer)
Mrs Fathi Hassan is a very energetic young mother with children. She is originally from Somalia arrived in Australia as a child.
A very prominent and successful woman in her family life, personal and as a member of the Somali community a good role model. She graduated from Victoria University in Immigration law and currently working as an immigration agent (MARN 1909786). She worked in different field including TELSTRA (TSA GROUP), CUSTOMER SERVICE AND SALES AGENT, (2016 – 2017); Howard kingham lodge, in 2005; and Glandale Age Care Facility in management in 2008 2010. A very friendly with big smile welcoming visitors, you don't need to know her, with one visit you become familiar, as if you know her for years.  She is a good communicator with very understandable patience.
With very strong personality and high professional integrity, he is a role for young mothers, that family and work balance. As a woman, she has been a good role model for many young girls from the Horn of Africa and African communities in the western suburb.